Why Sending Grammar Tips Won't Fix Your Team's Writing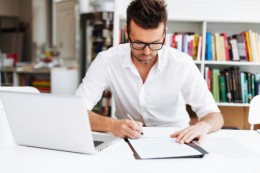 When high-level scientific, technology, and engineering teams struggle to write well, team leaders may be at a loss as to how they can help. Some offer a list of resources that team members can use while they write. The intention is good, but the result is usually negligible. So, many organizations turn to training to help their engineers, scientists, and other technical staff members communicate their ideas and work more effectively.
Training these "nonwriters" is often a battle, however. First, many team leaders believe poor writing results from a lack of knowledge of grammar, a discipline that many nonwriters have little or no time to relearn. This situation isn't helped by the organizations these people work for, which lament the lack of strong writing skills but fail to implement writing training.
To compensate, well-meaning but poorly trained managers and supervisors attempt to "edit" the work of these nonwriters, focusing on grammar and style, which they may think are the only factors necessary for good writing. Finally, companies often use poorly written models to illustrate how a document should be written.
Grammar tips don't help people become better writers, though. Technical people are highly intelligent. They work by applying a method to solve problems. Unfortunately, most of these people don't know the method to apply to writing: It simply wasn't emphasized in their education.
They don't need rules; they need a professional approach to their writing practice.
Rethinking the approach
Biopharmaceutical, software, and research organizations need to rethink the writing component of their business and how they train their nonwriters to write. Such organizations employ large numbers of nonwriters, but much of their business depends on written communications. Therefore, these companies must devise or contract a writing training program that can help staff create clearer, more effective documents.
These staff members are bright, method-driven people. A strong writing program emphasizes using the skills these people already possess: organization, defining a problem, and creating a process to find a solution. Performing "exercises" simply won't work for engineers or scientists. Instead, the training program must find a way to apply the same approach these people use in their everyday work to their writing, with feedback that is immediate and relevant so that they can see the results.
Technical staff can apply critical thinking strategies to understand such aspects as:
The audience they're writing for
The purpose of the document they're creating
The constraints inherent in the message itself
With this process-based understanding, they can make better choices in their writing.
The solution to problematic writing isn't to point out the rules, it's to make the most of your teams' strengths.
[cta]Are you tasked with creating scientific or technical content that nontechnical readers can understand? Hurley Write can show you how. Contact us by phone toll free at 877‑24‑WRITE (877‑249‑7483), or visit our website at https://www.hurleywrite.com/contact.[/cta]