Bridge the Gap: Help Technical Writers Connect with Their Readers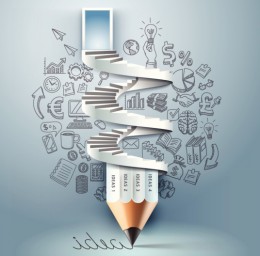 When people who are entrenched in their field of study or specialty try to explain their work to someone outside that field, their tendency is to overestimate the outsider's level of understanding. Experts can easily overlook details that, to them, are minutiae, but are essential information for your customers. Chances are, those readers need a few more details to fully grasp the concepts your team is trying to convey.
Help writers see their work from an outsider's perspective
Your team works hard on a proposal, grant, or paper. The document contains science and deep, specific expertise. It's technically accurate and to the point. Still, it fails to make the intended splash. Why?
Often, technical documents miss the mark because they leave their readers behind. No matter how great it is, if the reader doesn't understand what the document says, all that time your team spent writing was wasted.
Identifying the target reader of a technical document can be difficult, though. For example, a typical technical proposal will pass through the hands of technical evaluators, procurement managers, and executive decision-makers. How can one document speak to such a diverse audience?
One approach is to write for the first reader, who will decide whether the document goes on to the next level of review, and the last reader, who looks only at the "finalists" and makes the decision. It's important for writers to take time to answer essential questions about their readers:
What do they need to know? Are they looking for an explanation of a concept or a report about an event?
How familiar are they with the subject matter and background information?
How do they expect the information to be organized?
What are their expectations in terms of detail?
Such an approach can help you and your team make appropriate language and organizational choices.
Keep it simple
Many highly technical people worry about diminishing the accuracy, and therefore the validity, of their work if they're forced to eliminate or even reduce the technical language they use to describe it. Nevertheless, for many technical roles, the person's ability to communicate his or her ideas is nearly as important as the ideas themselves.
A successful document gives readers a sense of purpose and a clear path toward that purpose. To that end, providing your team members' training in technical writing will help them better understand how to strip away the complexity of their ideas or processes so that they can present them in the most appropriate ways for their audiences.
The extent to which your team members will have to explain concepts in their field of work will depend on the audience that you have identified, whether they are lay people or technically savvy managers who simply are not familiar with the highly specialized work your team does.
Remind your team of the principles of good writing
It is rarely possible to rely on raw talent. Clearly communicating to your customers is a skill that your team must develop, so don't be afraid to encourage your team to build and practice that skill. The principles of good writing apply at every level and in every genre, technical or not. Only by applying them consistently across documents can your team members become better communicators.
Want your team members to receive tips to help them improve their writing every day? Have them sign up for Writing Tips on our Resources page.
For more strategies to help develop confident, effective writers, contact Hurley Write by phone toll free at 877‑24‑WRITE (877‑249‑7483), or visit our website at https://www.hurleywrite.com/contact.