You Can Teach Them, but Will They Learn?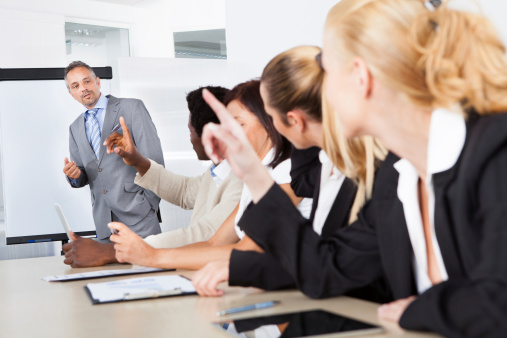 Do your employees really take anything away from the training you provide?
If you're in charge of corporate training, that's a question you may be asking as you plan your training programs for the coming year. Often, employees view corporate training as something they have to "get through" that will have little impact on them or their careers.
Traditional approaches to corporate learning, such as the one-size-fits-all model that many e-learning programs use, aren't often directly connected to what employees do in their daily jobs, so participants may be unmotivated to really engage with them.
If you're looking for training that does more for your employees, it may be time to reevaluate your corporate training strategy. Fortunately, you have options: new trends in training offer possibilities for learning with purpose. One approach that is gaining adoption is competency-based training.
An alternative based on business needs
In 2014, research firm Brandon Hall Group released a study revealing that 40% of corporations were looking to strategically align training with business needs. That means that training has moved away from the model of providing general courses that deliver a broad stroke of information "just in case" employees need it.
Instead, business-centric training targets delivery of specific skills that employees must have to do their jobs and results that are clearly measurable. Business-centric training can be delivered in a variety of ways, but one of the most intriguing is competency-based training.
What have you learned?
The principle goal of this model is that participants become able to demonstrate that they've learned something, competency, at the end of the training. As Michael Plater, president of Strayer University, explains in an article for Chief Learning Officer magazine, "This form of education allows adult learners and employees to focus on skills they need to improve while not sacrificing time or expense on those they have already mastered."
The hallmarks of the competency-based training approach are that it
breaks learning into manageable chunks;
is progressive, with learners moving on after they've demonstrated that they've mastered a skill; and
allows learners to "test out" if they can demonstrate that they learned the skill through work or life experience.
To deliver effective competency-based training, companies have to change their approach to training overall.
Clearly articulate the goals of the training and set expectations by giving participants explicitly stated and well-defined learning outcomes.
Reorganize training programs themselves around demonstrable skills.
Develop assessments that are meaningful and that measure outcomes in a valid way (not just via a short multiple-choice quiz).
This training approach benefits the company and the learner. For the business, competency-based programs help an organization identify learning and skills gaps among employees. In addition, such programs can be extremely cost-effective. Because they're modular by nature, individual modules can be swapped out and changed in an agile way to meet changing business and industry demands.
For learners, the courses are immediately more relevant because participants no longer have to spend time going over material they've already mastered. They can complete modules at their own pace and drill down into content, focusing on areas that are of particular interest to them and relevant to their positions.
The changing face of corporate training
Competency-based learning gives both employers and employees flexibility. Most important, it ensures that employees get something of real value from training. Learners will walk away with skills that will benefit the company immediately and that they can carry with them throughout their careers.
[cta]Hurley Write can teach your team valuable writing skills in less time and with less effort. We offer onsite workshops, online courses, and webinars to help businesspeople, engineers, scientists, and technical professionals master the writing skills they need. Visit us at www.hurleywrite.com, call us at 877-24-WRITE (877-249-7483), or email us at info@hurleywrite.com.[/cta]