How to Write More Effectively
Effective writing is more than just writing that is clear and flows. Effective writing is writing that is persuasive.
In this whitepaper you will learn:
How writers persuade
About analyzing your audience
Practical writing techniques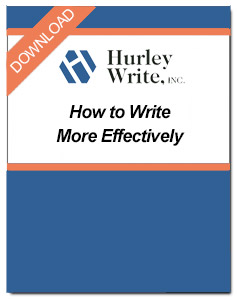 Hurley Write Testimonials & Reviews:
I learned new techniques that will be beneficial to my writing.
Greg Wolff, US Air Force

Technical Writing Onsite Class
Fantastic and the content was super-applicable!
Angela Sweet, Dendreon
Technical Writing Onsite Class
I fully expect to be able to apply what I've learned today.
Tom Croy, Dendreon